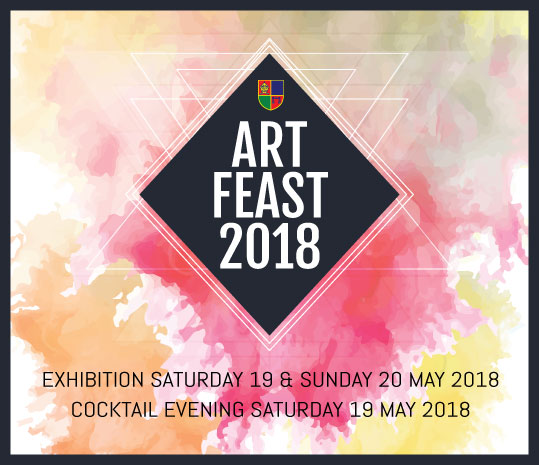 Art Feast 2018, on the 19th and 20th of May, is a FEAST for all our senses. Simultaneously building up, and bringing together the local community, through a celebration of the arts and additionally supporting a local charity, Bush Kids Bundaberg.
The event includes a two day Art Exhibition, featuring artists from the surrounding Bundaberg Region, fantastic workshops making your own works of art, and the highlight of the weekend, a themed cocktail evening in a beautifully-lit garden setting.
Artists from far and wide, have been traveling to Art Feast for three years now, in what has become a very successful exhibition. This year, as well as in past years, a donation will be made to Bush Kids Bundaberg, from art sale commissions. So your purchase of art from a local artist, will also be supporting free healthcare to children and their families living in remote communities. Throughout the day, you will also be entertained by St Luke's students showing off their varying talents, from the Senior String Ensemble, to the Saxophone and Brass Ensemble, and the Vocalists as well. We will also have children's entertainment throughout the day, to cater for peaceful adult art viewing!
Our workshops will be held over the whole weekend, and this year we are fortunate to have three wonderfully talented artists:
Milliner - Patty Carter:
Patty Carter will hold a Millinery Workshop, which will be run over 2 days. Saturday from 10am - 4pm, and on Sunday from 10am - 3pm.
Number of participants: Maximum 12.
Participants fees:$100 for two days.
Participants to bring: Scissors, tape measure, millinery needles, straw size 3-9, selection of threads, small pair wire cutters, berry pins or glass headed pins, apron, pen and paper. Material already owned is welcome. All hat making materials can be purchased on site. If participants have a favourite colour please bring that along.
Hebel Sculpture - Paul Perry:
Paul Perry will conduct a workshop that will involve creating sculptures out of hebel block. At the end of the workshop you will have a sculpture that you can take away and proudly display in your house or garden. The workshop will lasts for 1 day on Saturday from 10am to 4pm.
Number of participants: Maximum 10
Participants fees: $75
Participants to bring: Dirty old clothes. All materials including hebel blocks, dusk mask, gloves and tools will be provided in the workshop.
Leather Plaiting - Bill Webb:
Bill Webb will host a workshop called "Plait your own secret ended belt". The participants will walk away with a plaited belt of their own to keep. Suitable for all ages.
The workshop will lasts for 3 hours on Saturday from 9:00am to 12:00pm.
Number of participants: Maximum 8
Participants fees: $65 all included
Participants to bring: All tools will be provided, wear closed-in shoes.
COCKTAIL EVENING - CROWNS & TIARAS
This year, the theme for our Cocktail Evening, held on the evening of Saturday 19th May, is "Crowns and Tiaras", a night to celebrate the wedding of Prince Harry and Megan Markle. We will have a Royal Photo Booth with props, to commemorate our special day, which will bring light-hearted fun to the night. Matt Farthing will be bringing the tunes, so make sure to wear your dancing shoes! Kirstine Gill and the Hospitality cohort will be tantalising the tastebuds with cocktails and canapes, featuring fresh local produce from surrounding Bundaberg farms.
We have some fantastic raffle prizes and an AMAZING auction for, not one, but TWO accommodation packages, so bring your cheque books!
To keep track of new information as it is confirmed, click the 'GOING' button on our event page here:

PURCHASE YOUR TICKETS ONLINE
Purchase tickets for the workshops, exhibition and Cocktail Evening online:

ENTER ARTWORK
If you would like to enter your artwork into the exhibition, and would like more information, please click the link here: